Our veterinary hospital offers spay and neuter operations plus may other routine elective surgical operations for companion animals. Most routine "day" surgical procedures are by appointment only and should be booked well in advance. Pet patient admissions into our hospital normally occur between the 8:00 to 8:30 in the mornings. This is usually a very busy time at the clinic and there will be lots of other clients with their pets. Please make sure that all cats are in proper carriers or kennels, to reduce stress and ensure their safety. All dogs must arrive on a leash, and please notify us in advance if there is any possibility of aggressiveness or fear, with other dogs or people. Our staff will discuss all of this with you at the time of booking, and will remind you once more with a confirmation reminder call the day prior to your scheduled surgery.
The owner or a legal guardian will be required to read, understand and fill out our admissions form. We will obtain important contact information including phone number where you can be reached at all time during that day, your pet's complete medical history and collect all consents for desired procedures.
All patients should have been fasted before surgery the same as with humans. This will depend on their size, age, medical condition, etc. Usually most healthy pets should have no food after 9 pm and no water in the morning. Most importantly, for your pet's comfort and well-being, please encourage them to go to the bathroom prior to bringing them in for their surgery.
Our veterinary hospital features a state-of-the-art surgical suite with laser surgery and the latest digital monitoring equipment including blood pressure monitoring, SPO2 pulse oximetry, EKG and temperature. This aids in the precise monitoring of general anesthetic for your pet to ensure the safety of the procedure. We follow strict pain protocols to ensure the comfort and safety of your pet during their operation. Our veterinarians recognize that even "routine" procedures such as spaying or neutering can cause anxiety for both pets and their parents. Our entire healthcare team always does the very best to help pets relax, remain comfortable and carefully monitor their vital signs during their surgery and post-op hospital stay.
As in the human healthcare system, we strongly recommend that the patient, your pet, has a complete general physical and wellness examination and proper vaccinations BEFORE they are put through the added stress of surgery. We will also discuss all the other Surgery Options that we recommend for our patients. If indicated as being necessary, a diagnostic blood work and / or a fecal examination will be done to allow us to screen for parasites and other underlying illnesses before your pet exhibits physical symptoms. We also offer other pre-anesthetic lab tests before all procedures, both to gain a full understanding of the organ system functions, as well as to detect any underlying health issues that may affect the anesthesia process. The pre-operative blood tests will also guide us in the administration of which type of sedation and anesthesia would be the safest.
In regards to anesthesia, we take the necessary precautions to decrease the risks and maximize the safety of the procedure and the comfort of the pet.
Prior to administering any sedation or anesthesia, our surgical veterinarians always conduct a thorough general physical examination to ensure there are no potential health complications. If needed based on their findings, they might recommend a pre-surgical blood test just to ensure the health of organ systems functions.


Whenever surgery is performed on one of our patients, our animal hospital takes the necessary steps to prepare for a comfortable, successful surgery. Our surgery equipment sterilization techniques are the same as those used in human hospitals to minimize the chances of infections or complications.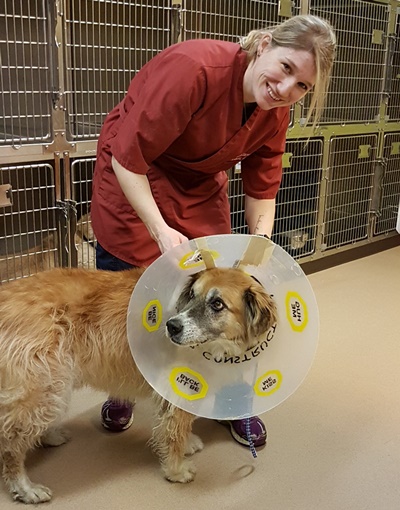 Some procedures require only a local anesthesia, while others, such as spay and neuter, dentals or orthopedic surgeries require general anesthesia. In either case, our animal health technologists are always on hand throughout each procedure to monitor the pet's vital signs and adjust accordingly. After surgery, we bring pets into our recovery area and continue to monitor them as the anesthesia wears off. We want each pet to be as comfortable as possible throughout, so we also administer safe and effective pain management medications.
Before the patient goes home after undergoing surgery, we discuss how the surgery went and provide you with clear instructions about administering any pain medications and monitoring the incision site, and wearing "the cone" if necessary. Please feel free to ask us any questions during this time, or to call the clinic at 780-352-7006 after you get home if you have any other questions or concerns that come up later. The more knowledge you have about post-operative care at home, the faster your pet will be able to recover and get back to normal activities. Following the surgery, we keep your pet for a short time to monitor his recovery. Once we are confident that your pet is ready to return home, we will contact you to pick them up usually between 4 -5 pm. When discharged, every pet is sent home with a full list of at home care instructions that you need to read and follow closely. We are also available at any time to answer questions about a surgical procedure or the care that follows.