The Wetaskiwin Pet Centre is Wetaskiwin's only full-line pet store carrying everything you would need for all of your pets. Happy, healthy pets are our No. 1 priority! Happy pet parents is our 2nd priority.If there is anything you need that we don't have in stock, we can usually bring it in for you – just call 780-352-7606 or email us at Info@WACvet.ca

Nutritional health management is our specialty. Professional premium dog & cat for all life-stages is our main focus -many have loyalty programs or frequent buyer cards. We will honor all competitors coupons on in-store merchandise.
All of our pet foods are 100% guaranteed for both pet and owner satisfaction – if your pet doesn't like it or isn't doing well on it or if you are not happy with the food just bring it back. When switching pets foods always remmeber to to it slowly over time -add 10% more of the new diet every day so this in 10 days they are switched to the new food and they don't even realize the old one is gone! This is very important to allow the intestinal microbes to adjust to the new food and prevent your pet from possibly developing vomiting and or dirahea.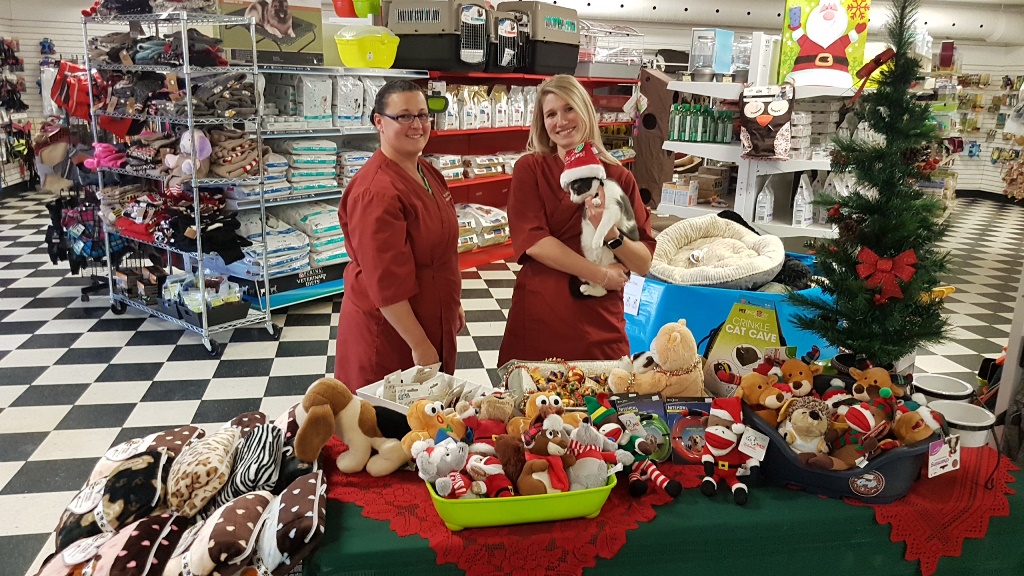 Click here to view our Pet Store Products Page
YES we have lots of crickets & worms of all shapes & sizes!
IF you require special types or sizes call us by Monday am and they we arrive by Wednesday pm.
WE HIGHLY RECOMMEND GREENIES DENTAL CHEWS SINCE THEY ARE VOHC APPROVED
WE ALWAYS HAVE WEEKLY SPECIALS ON MOST AQUARIUMS & STARTER KITS
| | |
| --- | --- |
| | |
| When browsing through the store you will notice that we have a variety of popular diets. Our staff is well educated to help you choose the best diet for your pet. | |
| | |
| Bosco and Roxy's gourmet dog treats are the tasty solution for the hard to buy for canines on your Christmas list. | |
| | The Pet Center caries everything for the fish enthusiast has a wide variety of Tropical and Goldfish. We have a good selection of aquariums, filters, heaters, gravel, ornaments and food. Check out the Betta Center for that special gift. |
| For Reptiles we have all your lighting and bedding needs. As well as Terrarium starter kits, habitat supplies and food. | |
| | Fresh orders of Crickets and Worms are brought in every Thursday morning. If there are any special live food orders just ask the Pet Centre Staff. |
| Our wide variety of toys is aimed to please your fussiest companion. | |
| | We have treats for all occasions. Training, dental health, joint health, skin and coat. We also carry a variety of bones and a favorite of our customers is the Pig Ears. |
| We pride ourselves on our selection of shampoos and other grooming supplies we offer at the Pet Centre. | |
| | You can find in our medical section pill pockets, soft paws, milk replacer, vetwrap and medi shirts to just name a few. Stop by and let us meet your needs. |
| | |
| Cozy beds of all shapes and sizes for all your precious pets. As well as heated beds for in the winter. | |
| | Your pocket pets deserve the best and our selection of starter kits, food, bedding and toys will keep them happy and healthy. Hamsters, Gerbils, Guinea Pigs are always available and we can bring in most other rodents if you wish. Feeder mice, alive and frozen, are always available for your snakes. |
| Your feathered friends will enjoy the wide selection of food, treats, new toys, cages etc that you find here. In store we also carry Finches, Budgies and Canaries on special order. | |
| | Needing a new outfit for Fido or Kitty? Bring them in to try on the new Lookin Good Fashion line. We carry lots of sweaters, boots, rain coats, etc to keep your pooch warm and dry in any kind of weather. |
| | Anna enjoyed modeling for the customers. |
| | |
These are sites of some of our major supplies for more information:
Hagen Pet Products for every pet, there is a Hagen brand
Professional Pet Products WDDC Pet Products online catalogue