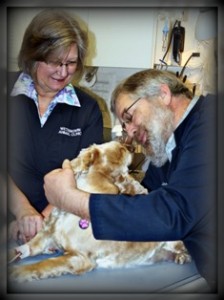 The Wetaskiwin Animal Clinic is a full service veterinary hospital that was started by John and Fiona in February 1983. The concept was to provide complete "WHOLISTIC" veterinary services and supplies for all animals. Our mission is to provide the best quality health care management for all our client's animals. We strive to provide compassionate veterinary treatment for sick animals as well as preventing diseases through proper vaccination and health care programs. Our main emphasis in on a "wholistic" nutritional preventative health management approach to helping our clients have their best friends live a long and healthy life. Hippocrates said, "Let thy food be thy medicine and thy medicine be thy food." We have prescription diets to help manage and control almost all disease conditions your pets encounter that will help them liver longer, healthier and happier lives.
We have taken our quality of practice to the highest level possible by being American Animal Hospital certified since 1992. AAHA is well-known among veterinarians and pet owners for its high standards in veterinary practices and quality pet care.
COMPASSIONATE PET CARE PROFESSIONAL VET SERVICE
"The American Animal Hospital Association supports the concept of animals as sentient beings. Sentiency is the ability to feel, perceive or be conscious, or to have objective experiences. Biological science, as well as common sense, supports the fact that the animals that share our lives are feeling, sensing beings that deserve thoughtful, high-quality care. The care that is offered should provide for the animal's physical and behavioral welfare and strive to minimize pain, distress, and suffering for the animal."
"John and Fiona have enjoyed practicing veterinary medicine for over 37 years and are still having fun! Now that their daughter Hilary has joined the team it has become even more rewarding."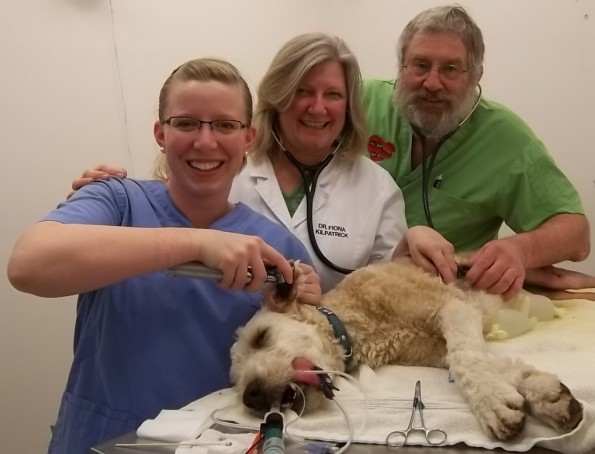 Did you know that accreditation for animal hospitals is voluntary? Surprising, isn't it? Nearly 60 percent of pet owners believe that their pet's veterinary hospital is accredited when it is not. In actuality, only 12-15% of animal hospitals have gone through the accreditation evaluation process by the American Animal Hospital Association (AAHA). We are proud to call ourselves an AAHA-accredited hospital.
In the United States, all human hospitals that serve people with Medicare must be accredited through an accrediting body; they undergo regular reviews and quality checks to ensure they meet standards of quality for every aspect of medical care. However, not all animal hospitals choose to pursue the AAHA-accreditation process since it is not required by law. When it comes to pet health care, accreditation is voluntary. The accreditation process is rigorous and time-consuming, and not every veterinary hospital wants to go through the lengthy process.
Accreditation by AAHA means that an animal hospital has been evaluated on approximately 900 standards of veterinary excellence. To maintain their accreditation, hospitals undergo a rigorous review by veterinary experts every three years. State and provincial regulations can vary widely – in fact, some states don't routinely inspect hospitals, only going in for an inspection when a complaint is filed by a pet owner. AAHA accreditation is considered the standard for veterinary excellence, and does not vary between states or provinces (AAHA accredits hospitals in both the U.S. and Canada).
We are an AAHA-accredited veterinary hospital. That means we hold ourselves to a higher standard. Pets are our passion. And keeping them healthy is our #1 priority. Here, we strive to deliver excellent care for pets. Because your pets deserve nothing less.
Learn more about AAHA accreditation and why our accreditation is important to you and your pet. Visit aaha.org/petowner.