ALL NEW AND EXISTING CLIENTS ARE ALWAYS MORE THAN WELCOME TO OUR AAHA CERTIFIED PET CLINIC!
EXCEPTIONAL PETS DESERVE EXCEPTIONAL VETS!!!
WE DELIVER PROFESSIONAL COMPASSIONATE PET HEALTHCARE
Thank you for considering us to help you look after your best friend. We always welcome new clients and patients to our full service practice. We know you will be very happy with our services. Please feel free to call us at 780-352-7006 for more information, to get a quote or to book an appointment. You may fill out the APPOINTMENT form below to help us get to know you and your pet(s). It will also make your clinic check-in process much quicker when you arrive. This information is always kept medically confidential as we value and respect your privacy.
You may also want to learn more about VETERINARY HEALTHCARE TEAM and all the SERVICES we have to offer. Please feel free to click on TAKE A CLINIC TOUR to familiarize yourself with our facilities. We look forward to meeting you and getting to know you and your pets better!
We greatly appreciate all referrals. If you need more advice or a second opinion feel free to contact us at 780-352-7006. We are always willing to help any animal in need.
You can trust us with all your pets needs


Is your pet sick, doing poorly or needs dentistry or surgery done? IF you are not sure if it is an emergency and needs to be seen right away, check out our SICK PET HELPER for professional assistance in evaluating the situation. IF you have an emergency call us at 780-352-7006 right away.
Did you know that accreditation for animal hospitals is voluntary? Surprising, isn't it? Nearly 60 percent of pet owners believe that their pet's veterinary hospital is accredited when it is not. In actuality, only 12-15% of animal hospitals have gone through the accreditation evaluation process by the American Animal Hospital Association (AAHA). We are proud to call ourselves an AAHA-accredited hospital.
In the United States, all human hospitals that serve people with Medicare must be accredited through an accrediting body; they undergo regular reviews and quality checks to ensure they meet standards of quality for every aspect of medical care. However, not all animal hospitals choose to pursue the AAHA-accreditation process since it is not required by law. When it comes to pet health care, accreditation is voluntary. The accreditation process is rigorous and time-consuming, and not every veterinary hospital wants to go through the lengthy process.
Accreditation by AAHA means that an animal hospital has been evaluated on approximately 900 standards of veterinary excellence. To maintain their accreditation, hospitals undergo a rigorous review by veterinary experts every three years. State and provincial regulations can vary widely – in fact, some places don't routinely inspect hospitals, only going in for an inspection when a complaint is filed by a pet owner. AAHA accreditation is considered the standard for veterinary excellence, and does not vary between states or provinces. AAHA accredits hospitals in both the U.S. and Canada.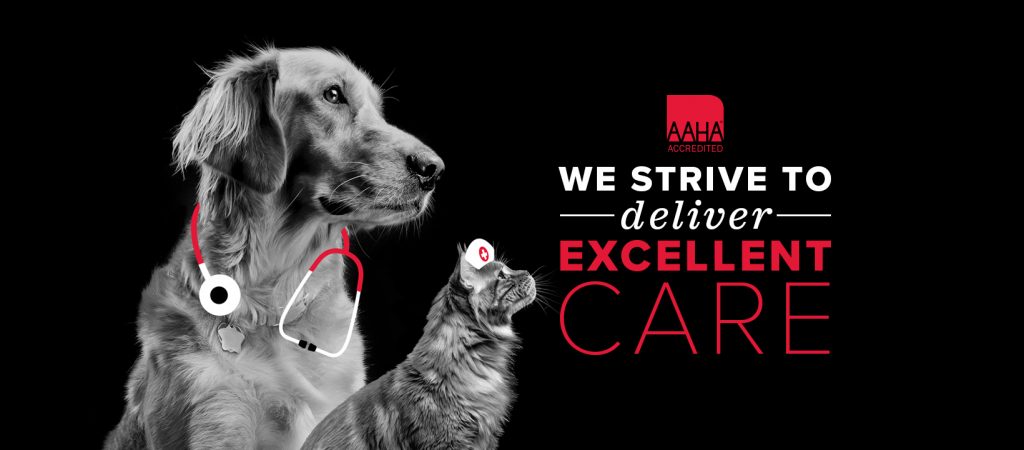 We are an AAHA-accredited veterinary hospital. That means we hold ourselves to a higher standard. Pets are our passion. And keeping them healthy is our #1 priority. Here, we strive to deliver excellent care for pets. Because your pets deserve nothing less.
Learn more about AAHA accreditation and why our accreditation is important to you and your pet. Visit aaha.org/petowner.