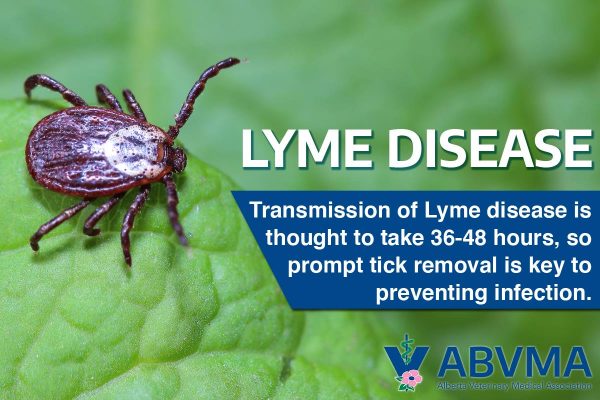 If you suspect your animal has been in contact with ticks, contact your veterinarian for assistance.
Symptoms of Lyme disease in dogs: Initially you'll see a large round red rash around the bite area. Infections of the skin, joints, muscles, heart, and nervous system can follow unless treated.
Humans contract Lyme disease the same way animals do—by getting bitten from an infected tick.
Not all animals or people who have been bitten by a tick will contract Lyme disease. It is thought to take 36-48 hours before the Lyme disease bacterium can be transmitted, so getting a tick removed as quickly as possible is very important.
Incidence: Ticks are typically found from April through October in Alberta.
If you find a tick on your pet, yourself, someone else, or anywhere outside, Alberta Health asks you to submit it for testing as part of a tick surveillance program. You can just bring it into our clinic and we will submit it for you. The directions given for safely removing a tick are for both animals and humans and are available by clicking "More Tick Info from Alberta Health" .
There are many products on the market for tick prevention; some good and some not-so-good. It is advisable to speak further on tick prevention with your veterinarian to hear his/her recommendations. They are the experts on your beloved pet's health! We will help you and your pet have a safe and enjoyable Spring and Summer.