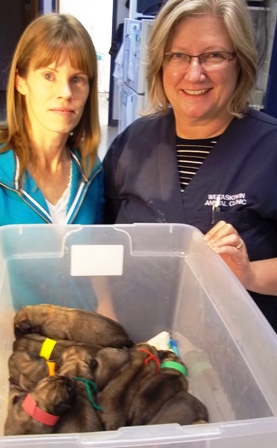 The Wetaskiwin Animal Clinic has a special interest in Canine Reproduction. We work very closely with numerous dog breeders and kennels to ensure that they produce the healthiest, happy puppies possible. With the bitches we provide pre-breeding examinations, vaginal swabs & cultures, progesterone blood testing, Lost Pregnancy profiles and numerous other reproductive diagnostic tests. With the stud dogs we perform semen collection, sperrm motility and morphology examination, chilled and frozen semen services.
We are a full service canine reproduction facility that is CKC authorized for semen collection, evaluation, freezing and storage. AI is routinely performed with fresh, chilled or frozen semen. Bitches are monitored from estrus through conception to whelping (including C-section if necessary). Pre natal ultrasounds and X-rays are performed in house.
There is nothing more rewarding than doing a surgical semen implant and then 60 days later doing a C-section to deliver lots of live, healhty puppies for our breeders.