We offer a complete range of dental health care services for your pets -check ups, oral examinations, cleanings, ultrasonic scaling, polishing, dental charting, dental x-rays, extractions and oral surgery if necessary. Dental disease and its serious systemic consequences can be avoided by bringing your pet to your veterinarian for regular dental check-ups and teeth cleanings. Since dogs and cats won't just sit still and "open wide" all procedures are done under full general anesthetics in our dental operatory room. Patients are closely monitored by our Animal Health Technologists and are on SPO2 monitoring machines. We have the Ultimate Veterinary Dental Station by Dentalaire which allows us to do ultrasonic scaling and cleaning, prophy angle polishing, high speed fiber optic drilling and cutting. This state-of-the-art equipment allows us to do dentals on your pets quickly and professionally. We have the AFP digital dental imaging unit that allows us to x-ray the teeth in order to properly assess their condition and determine if they need to be extracted.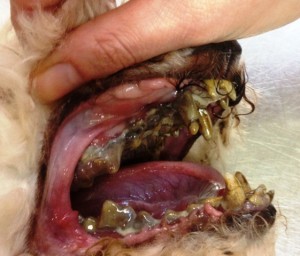 This is a case of very severe dental disease.
These poor dogs are in pain and reluctant to chew.
Please flip the lip and bring your loved ones to us for help before they get to this condition.
IF you can't stand to kiss your pet due to it's bad breath -we need to see it.